How best to look after your voice?
Posted on
I talk. A lot. Honestly. I speak and chat and use my voice all the time. Which is a good thing as I totally love chatting away. However chatting and using vocal muscles is tiring. There are days when I have several sessions in one day and say the same words or phrases over and over again. That means it can be over 5 hours of non stop talking. Wow! That is a lot, like when I do videogame characters, a lot of vocal exertion for those emotes mean at the end I am needing a pick me up.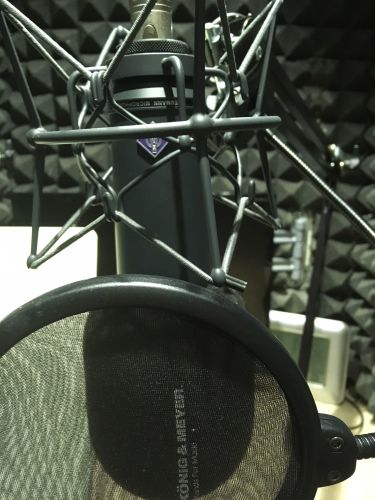 How to stay talking fit?
Your mouth and vocal folds as well as neck and back tire from verbalising all day long. When you spend your days in a warm booth it means the air is dryer as well so you can get more tired. To keep myself in tip top shape for a week of talking, I work through a warm up routine, lip trills, straw singing and working through mouth shapes and sounds on a regular basis. But what else can be done? Here you have a few other ideas.
My top voice tips
Steaming - grab that steamer and think hot sauna time. The steam is so good for your vocal folds. They help relax, open them and lubricate them. Essentially the steam is like a warm hug. Gentle and comforting. I like using a steamer but watch you don't inhale hot air, that can damage important membranes and hairs. Much like bath water, always check the steam temperature.
Healthy eating - yes, this one is quite important. A varied diet with plenty of fruit and veggies is essential. Of course treats are important (not giving up dark chocolate for anything) but what I am talking about is a good diet with plenty of the green stuff. I have a weak spot for lemons so happily eat these a lot.
Aromatherapy Oils - This is a new one to my list and it has made a huge difference to my life. I had a fabulous consultation with Aira Therapy and Emily who is a IFTD certified practitioner asked me lots of questions. I wanted oils that would be effective for my vocal cords as for my skin and general holistic overall health. She blended up some delicious smelling oils and now I cannot live without it. Such a great find, the oils brings a soothing quality to the air so I can breathe more easily.
Take a break! - build in time for a tea break. Or a stretch or comfort break. Anything so you can re focus and ground yourself before another job. Voicing long e-learning scripts mean that a singular energy is needed so breaks are the best way to keep that energy up.
Keep fit - by this I don't mean train for the next marathon - well if that is your thing then go for it. No, I mean, keep fit by moving all day long. Standing or sitting in the booth all day means muscles lock in position and a locked body means the voice gets locked as well. Keep moving, keep fit, keep being amazing.
Massage - ohhhh who doesn't love a massage? Every muscle will benefit from some attention. We can hold onto tension and this can cause us to become less supple all over. This again will have an impact on your voice and vocal cords. There are also massage exercises for the jaw, mouth and tongue which are essential as a voiceover artist.
And finally never forget to drink plenty of tepid water. At least two litres in a day but more if you are chatting away endlessly like me. Always have a glass of the H20 stuff on hand as the liquid will soothe and ensure you are replenishing the moisutre that you expel as you speak. If you would like to know more then please do get in touch with me.
Stay voicing, stay well.
xx